Sale!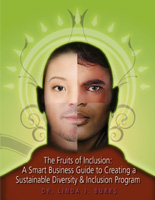 Fruits of Inclusion™
Fruits of Inclusion (Paperback)
by Dr. Linda J. Burrs
There are more than 100 million insect species, 500,000 varieties of plant life and more than 6 billion people residing on our planet Earth. The question is not should we support diversity, the question is how can we best define, support and shape policies, attitudes, and programs that help individuals see themselves as a part of a greater system of diversity . . . a complex system of interconnectedness, a diverse system of inclusion in which we all belong. This book provides the reader a framework for understanding diversity and inclusion and how to design a unique organizational strategy that works.